Saturday, 17th
Dolly's yard of plastic flowers.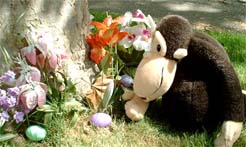 Click to tour Dolly's yard.
(120k)
This yard is in Monkey's neighborhood. The flowers are always perfect. Opice doesn't know this resident, but thinks of her as "Dolly" because, "She's just like my friend Dolly Parton."

That's a fantasy, of course. He's never met the celebrity, tho he's written her several times hoping for an autograph.

"Every time I see that lady in her yard, I think of Dolly's..."
Je ne sais quoi, I cut him off.

"They both have major..."
Joie de vivre I firmly shush again.

He looks at me intently. "That's a language for something, isn't it?"
Very special something I assure.

"Ok. But if I'm not supposed to talk about her hair in English, how come you can out of English?"