Friday, 23rd
Flower Arranging: Voilà!
It's all in the

, a few words about which.
"Tjuzs" is a new pop word in English meaning: to finish, finesse, tweak, adjust, perfect, fuss-with... But as always, ya can't guess how to spell it in English when you hear it. But Opice knows exactly how to spell it because he's Czech. Slavs have a letter for every sound in their language (and most of Monkey's utterances as well--scary, eh?).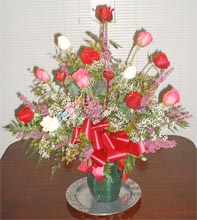 represents the "s" sound in pleasure. This gives Czechs an unambiguous phonetic way to reproduce the new word:

. Meanwhile Anglos struggle with "tj" and "zs" both in the same word for the same sound!