Monday, 23rd
Circle the wagons; we're surrounded by Indian
Arts & Crafts!
That's how the auction works. Off center under the circus tent is a stage for the auctioneers. Behind the stage are the computers and "lots" for sale. Local students & volunteers carry the lots around the stage (& computers) showing the buyers what's now up for bid. Around and around the art goes as it sells.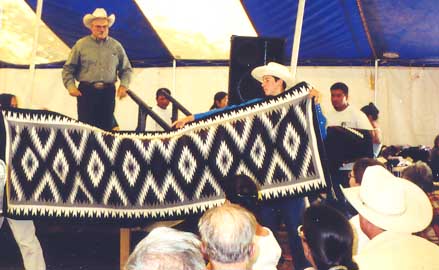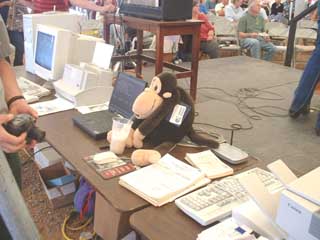 Monkey is in the picture above, honest. He's working behind that rug. As the rugs, baskets, ceramics, katsinas, etc., etc., etc. quickly sell, Opice must get the sales information into his database.
A database is just a bunch of organized facts, in this case important facts like Lot Number (1, 2, 3...), what the lot is (Rug), what it looks like (12' x 3' black/gray/white "Eye Dazzler" style), the weaver's name, the buyer's info (Bid Number, name, address), how much was paid, and a lot more stuff that only database people think is interesting... Besides, software is only as good as the monkey that writes it.
It's a lot of stuff to keep track of, which is why computers sure help. And banana milkshakes sure help Monkey pay attention.