Saturday, 22nd
Ring the Cowhead Bell strength tester,
arcade game, or objet d'art?
Michael's gallery sells fine art. Across the street from Medicine Man Gallery is a new place selling "fine art," too. Monkey considers the meaning of the phrase in light of the other gallery's entryway sculpture:
Do they mean [art] from finds?
Sorta found, lost, and refined?
Doesn't fine also mean small? This thing's sure not small.
Maybe it's art that comes with a fine attached?
Opice asks what those people mean by fine art cuz it doesn't seem to mean what Michael's fine means.
Michael takes a moment to adjust his glasses, carefully considering his responce. "One simply does not shop there," he warns.

<==click the cownival game to Ring the Bell
Heads up.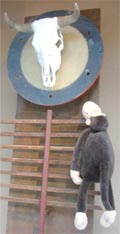 Another victim of the
O'Keeffe factor.