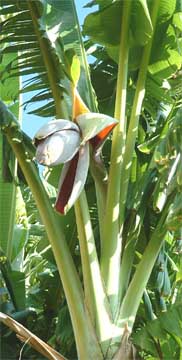 Monday, 27th
Banana to the Rescue!
Monkey, look! There's a flower on your banana plant. He climbs down from the awning and rushes to see.
"Oh boy, oh boy, oh boy, oh boy, oh boy, oh boy, bananas!" he chatters. Then speculates, "Should I flambé them or make splits or dip them in chocolate syrup and peanut-butter or...?"
Sadly, it's much too late in the year for this bud to produce fruit, but DO NOT TELL MONKEY! Let him enjoy his dream.